[review]
Sea-Band
is a company that sells items to keep nausea at bay. It is great for those heading out on a cruise, a fishing trip, or even pregnant mamas.
The most popular item that
Sea-Band
sells is, of course, their Sea-Bands. The Sea Bands are elastic things that you put around your wrist. There is a plastic nodule that, when properly placed against your wrist, performs acupressure, a technique that naturally reduces or relieves nausea.
Another helpful item that Sea-Band sells is their gluten-free, anti-nausea Ginger Gum. Utilizing the natural benefits of ginger root, this gum causes quick nausea relief.
Discover It
Sea-Band
sent me a pair of their adult-size Sea-Bands and a box of their Ginger Gum to test run.
The Sea-Bands were the first item I tried. I love that they came with a water-resistant plastic case to stow them when not in use; this protects them from damage while at the same time keeping them together.
To use the Sea-Bands, the instructions say to place my three middle fingers on my wrist with the third finger against the crease at the bottom of my hand. The area beneath the first finger is the Nei-Kuan point. This is where the button on the Sea-Band goes to cause pressure. Both bands must be worn for it to be effective.
I was pleasantly surprised! The acupressure really worked! For me, it didn't completely remove my morning sickness feeling, but it helped ease my belly tremendously!
The only negative I found about the Sea-Bands was getting used to their being around my wrists. I wore them in the heat of summer, so they felt a bit itchy against my skin.
The ginger gum was my favorite of the two
Sea-Band
products. When my belly began feeling urpy, I'd chew on a piece of the gum.
When I first began chewing on each piece of gum, there was a slight burning sensation in mouth from the strength of the ginger therein. But I didn't mind; it didn't hurt, and it subsided quickly. Then, as I swallowed the ginger flavoring, it really eased my stomach–almost instantly. Again, it didn't completely eliminate my morning sickness feeling, but it did soothe it down to a very bearable level.
Overall, I found the Sea-Bands and the ginger gum to be highly helpful! I honestly wish my husband and I had these during our honeymoon when we went on a cruise to Alaska. They would have been much nicer than the Dramamine's fatiguing effect!
[xrr rating=4/5]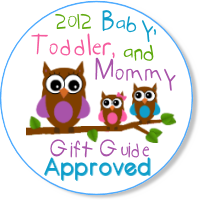 Buy It
You can purchase Sea-Bands and their ginger gum through various retailers such as Walmart, Target, CVS, Rite Aid, and Walgreens in the U.S. and Overwaitea, IDA, Familiprix, and Guardian in Canada; as well as various other independent drugstores and pharmacies throughout North America. They are also available online through
Drugstore.com
 and
Sea-Band.com
. The Sea-Bands come it both adult and children sizes.
Win It
The Prize
One set of Sea-Bands and One Box of Ginger Gum!
How to Enter
I am using Rafflecopter for this giveaway. To accomplish each item, simply follow the directions in the form to a tee. Some include leaving comments, but most only require a couple of clicks! It should be easy and quick for you to enter. Here's a quick video demo if you're unsure:
Here are the rules for this form:
The Mandatory Entry must be done or all other entries do not count.
Each entry must be accomplished exactly as it is stated.
You can perform each entry type ONE TIME ONLY unless otherwise specified.
If there is a leave a comment entry type, be sure the name you type in the comment's name field is EXACTLY the same as the name you use in the form.
Make sure to leave a VALID email address in the email field so I can contact you if you win.
If you already follow/like me or the company via Google Friend Connect, Twitter, or Facebook, that's okay–the entries still count.
No cheating–I make sure your entries are done correctly. If they're not, then you can't win!
*Troubleshooting Note: You must have JavaScript enabled for the form to appear (click HERE to learn how to enable Javascript) and you may need to clear your cache (click HERE to learn how to clear your cache). If the form doesn't appear shortly (give it maybe a minute or two), try refreshing your browser or trying a different browser. If you continue to have problems, please contact me and I'll help you out as best I can!
The Deadline
Friday, September 2, 2011 at 11:59 
PM
 E
ST
[review]