[review]
In 1966, Fred Catapano took out a loan for $1,000 to begin a business. With that money and two sewing machines, Fred began sewing soft toys for kids. This business, called the Well Made Toy Manufacturing Corporation, is still run by Fred and is known for having the widest variety of rag dolls. Today, besides rag dolls, Fred's company also produces super cute and kid-friendly toys known as
PetCakes
.
Discover It
PetCakes
sent us their Series 2 Limited Collectibes PetCakes.
The pets are (from left to right) Roco Coco the raccoon, Honey Cakes the bear, Bamboo Berry the panda, and Nutty Nicky the squirrel. Each of the pets are so super cute!
They each, of course, came with soft cupcake liners to hide in.
You can push the pets down in their cupcake homes and make them look just like cupcakes. So sweet!
The Little Mister loved playing with them. Especially the "cherry" on top!
And the silly boy thought there was something to drink in the cupcake liner. Lol.
The stuffed animals are sturdy and very high quality, in addition to being fun and super cute. The recommended age for the toys is 3 and up, but we allowed our 1-year-old to play with them while under sharp supervision. These toys would make great kids' birthday gifts.
[xrr rating=4/5]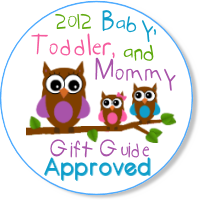 Buy It
You can purchase any of the adorable PetCakes toys from their website
MyPetCakes.com
.
Win It
The Prize
2 PetCakes of Winner's Choice!
How to Enter
I am using Rafflecopter for this giveaway. To accomplish each item, simply follow the directions in the form to a tee. Some include leaving comments, but most only require a couple of clicks! It should be easy and quick for you to enter. Here are the rules for this form:
The Mandatory Entry must be done or all other entries do not count.
Each entry must be accomplished exactly as it is stated.
You can perform each entry type ONE TIME ONLY unless otherwise specified.
Make sure to leave a VALID email address in the email field so I can contact you if you win.
If you already follow/like me or the company via Google Friend Connect, Twitter, or Facebook, that's okay—the entries still count.
*
Note:
 You must have JavaScript enabled for the form to appear (click 
HERE
 to install Javascript). If the form doesn't appear shortly (give it maybe a minute or two), try refreshing your browser or trying a different browser. If you continue to have problems, leave me a comment (make sure you enter your email) letting me know and I'll help you out as best I can!
The Deadline
Friday, August 5, 2011 at 11:59 
PM
 E
ST