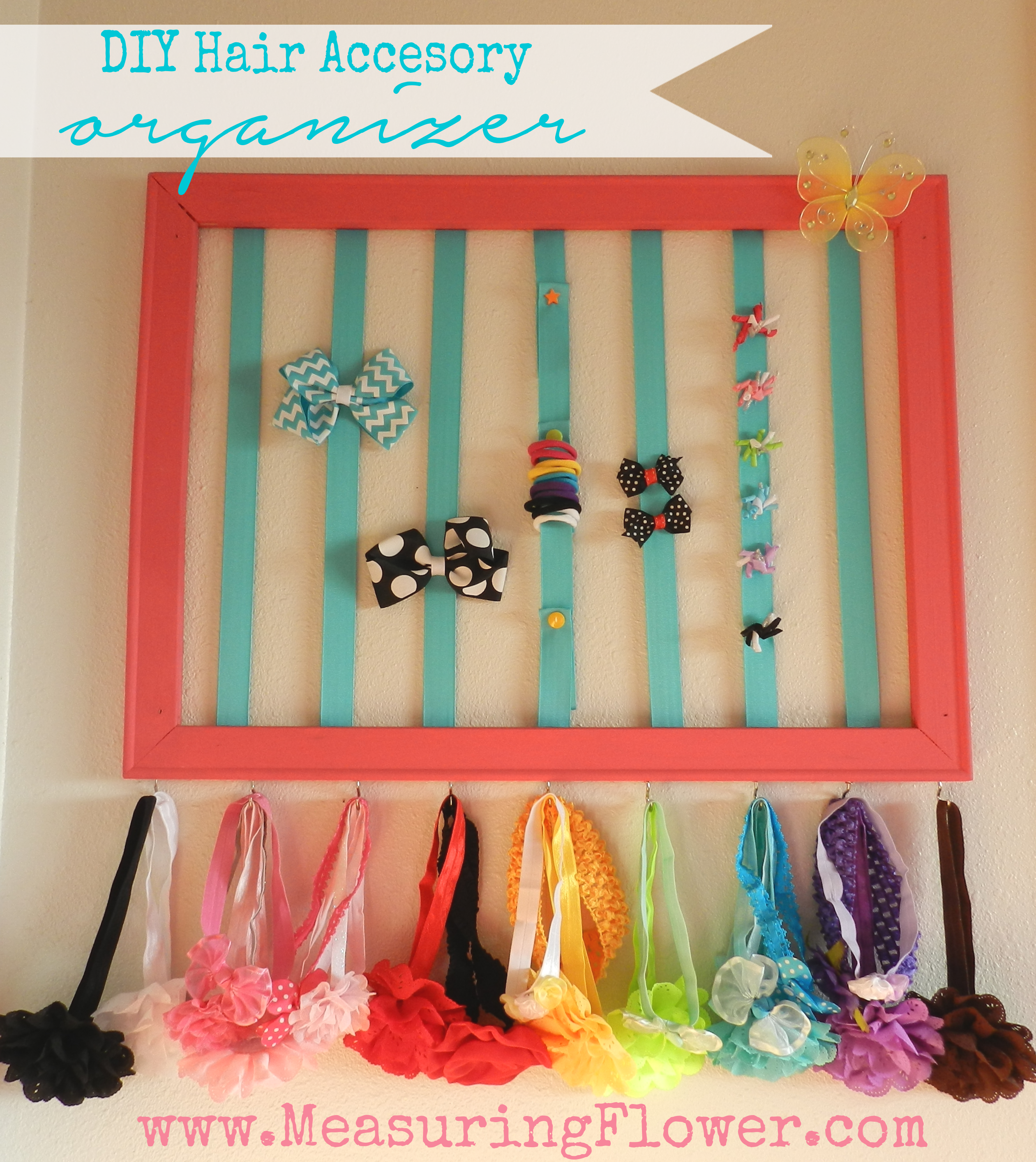 I just love how there are so many adorable little bows and flowers that can adorn a baby or little girl's head and hair! I would have been in heaven when I was a little tomboy with all these options! When I place these dainty bows and blooms on my daughter's cute little head, her femininity shines through. Plus it typically (yeah, not always) prevents people from asking, "Awe! Is your a baby a boy or a girl?" when we go shopping!
Well, since the grandparents have caught on to this love for bows and blooms, they've been giving the Little Lass a LOT of them for every occasion. So, to keep them neat, organized, un-squished, and out of grabby hands' reach, I decided to put together a simple head band and barrette organizer.
The organizer I put together adds color and beauty to the Little Lass's bedroom. And I think she approves of it–it's been her favorite thing to incessantly stare at since it was hung in place.
How to Do It
If you'd like to do this super easy project, here's what you'll need:
A wooden frame, any size.
Paint and paintbrush.
1-inch ribbon.
Staple gun with staples.
Decorations and hot glue gun with glue (optional).
First, I painted the frame with a couple coats of pink craft paint. Then, to construct the organizer, I stapled the strips of ribbon about 2 inches apart to the back of the frame. How far apart your ribbons are will depend on the width of the frame you use (some simple math may be involved).
The center ribbon is a little more complicated. I folded it as illustrated (I can't really think how to put it into words, so see the picture above for how-to) and attached snaps. The resulting loops open up so I can hang stretchy head bands or hair bands and elastics.
To the very bottom of the frame, I screwed in some silver mug hooks. The wood on my frame was "soft" enough that I just pressed and started twisting to get the hooks in. If you have a harder frame, you may need to pre-drill holes first.
Then I hot glued a cute little butterfly we had from the Little Lass's baby shower to the frame as an embellishment.
Last but not least, the Mister nailed it to the wall with his nail gun. And there you have it! A lovely, functional, and fun hair accessory organizer!
Now I need to get started making some DIY bows and blooms (I have some super cute ones pinned to this Pinterest board).