Baby Brezza
is a revolutionary way to prepare steamed or pureed food for your baby…and for adults too!
Discover It
Baby Brezza
sent me a Baby Brezza appliance to test run with my mommy-guests!
We also received their clever cutting boards that make cutting veggies and fruits and putting them into the Baby Brezza a breeze. Each guest generously received one!
The Baby Brezza is quick and easy to use. You simply fill the reservoir to the fill line with water.
One of the veggies we pureed was a butternut squash.
You chop up your fruit or veggies and put them in. This was especially easy with the Baby Brezza cutting board, which has guiding marks so you cut the food into the right-sized squares. It also has a handy hole that fits nicely over the Baby Brezza so you can scoop the food into it. The cutting board even has little "walls" to guide the food in without it spilling over onto the counter.
Adjust the lid, set the timer, and wait. You can set it to steam only or to steam and then blend. The only complaint that the other mommies and I had was that there was no 5 minute mark. Not a big deal, but might be nice.
Once the timer goes off (if beeps!), tada! You have perfectly cooked and pureed baby food! There is even a Puree button so you can further puree it as needed. And, if you don't want to puree the food, you can just steam it too.
We let the baby food cool then we poured it into empty baby jars that everyone brought. The Baby Brezza has a convenient spout so you can easily pour the baby food out.
The baby foods we made were broccoli (back), banana with avocado (front left) and butternut squash (front right).
For the party, everyone also brought their favorite veggies or fruits. There was also a butternut squash and an avocado in the mix, but we used those to make baby food so they're not pictured. After the party, we held a drawing and one of the mommies won the basket with the remaining veggies and fruit.
My guests loved the Baby Brezza, and at least one said she's definitely going to buy one of her own! It is a great , simple way to make healthful, nutritious meals for your baby or toddler without spending a lot of time. Much easier than steaming in a basket, baking, or boiling. And no transferring from a cooking containers to a food processor–it's all in one! The babies in attendance loved the food too!
I also showed my guests the Baby Brezza website. It is a great source to find basic timing for common fruits and veggies, to discover tasty recipes, and more. We also found all the different kinds of accessories you can get for the Baby Brezza, such as a stacking storage system that you can heat or defrost the baby food in the Baby Brezza, a uniquely-shaped spatula, handy cleaning brushes, a grain basket for steaming things like rice in the Baby Brezza, and kitchen wipes for quick clean up.
[xrr rating=4.75/5]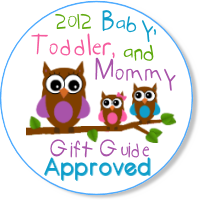 Buy It
Love It
Twitter: @BabyBrezza
Disclosure:
I was provided with gifts and a Baby Brezza baby food appliance to use with my guests. No monetary compensation was received. All thoughts and opinions are my own. To learn more about MommyParties, visit their website at
www.MommyParties.com
.